How To Buy Guide
Learn About Ranges, Stoves & Ovens
A range, a combination of a cooktop stove and an oven, plays a distinct role in any kitchen. It is where many people learn to cook or where friends and family gather to make recipes that have been passed down for generations. We want to help you make the right decision about which type of range/stove might best fit your styles and needs.
First, decide if you prefer a range over a stand-alone cooktop and built-in wall oven. This decision often depends on your budget, current kitchen layout, the scope of your renovation plans and your style preferences.
Want to learn more about how to buy a cooktop and built in wall oven? Check out our guides here:
Fuel Type (Gas, Electric or Dual)
Fuel type can impact cooking time and cooking results. Make sure you understand what to consider when making your decision.
Gas
The temperature is more controllable due to the flame on the gas top, allowing for immediate heat.
Installation is generally more challenging as a professional is required to connect it to the natural gas line. Certain ranges have liquid propane conversion kits for purchase if there is no option for a gas hookup.
Electric
The oven usually heats at a drier temperature, providing a more even and reliable cooking result. Certain electric ranges are designed with a glass smooth cooktop, making the appliance easier to clean than gas powered ranges. Installation is quicker, with a standard 240V plug in into an outlet.
Dual Fuel
These ranges have both gas and electric components to create the optimal variations for cooking and baking. The cooktop uses gas so the flame can be utilized for precise cooking. The oven is electric, providing even and reliable temperature throughout the cavity. This is often highly sought after by professional or experienced cooks, but can sometimes be costly.
Whirlpool does not offer Dual Fuel Ranges
Cooktop Heat Options
Cooktops use different types of heat. Consider your options to get closer to making your decision.
Radiant (Gas)
Gas cooktops - fueled by natural gas or propane - are often the choice of professional chefs due to their quick heating and precise burner control. The gas burners are measured in British Thermal Units (BTUs). Higher BTU output means higher heat, this is important for cooking techniques like searing (typically requires 15K BTUs or more). Lower BTU output (5K BTUs or less) means lower heat, essential, for instance, when melting butter. Many find gas cooktops more difficult to clean. Select Whirlpool gas ranges make it easy to clean spills and stains with the EZ-2-Lift ™ hinges grates that give you access to the cooktop without removing the grates entirely.
Radiant (Electric)
Indirect heat is used to heat up the cookware and then cook the food. Electric is the cheaper option compared to gas. Smooth radiant electric cooktops have a smooth surface that is easy to clean. Electric ranges can also feature dual or triple elements that have multiple rings to deliver the right coverage for whatever you're cooking with.
Induction (Electric)
With induction cooktops, an electric current is passed through a coiled copper wire underneath the cooktop, creating a magnetic current throughout the cooking vessel to produce heat. The burners do not stay hot for long after they are turned off because the magnets directly produce heat. This also makes for an easy clean-up because spills are less likely to cook on. Proper cookware must be used to maximize efficiency, including faster boiling. Cookware needs to be high in iron or steel with a flat bottom to be compatible. Remember, if it is not flat then the heat will not be properly transmitted. If a magnet is attracted to the bottom of a flat-bottomed pot or pan, it can be used with an induction cooking surface.
Whirlpool does not offer Induction electric ranges.
Coil (Electric)
Coil cooktops take longer to heat up/cool down than induction. This is usually the least costly option and you can use any cookware.
After deciding on a configuration and fuel type, the next step is to review all the features to determine which are important to you. You may be surprised to hear about all the new and exciting features that are now available on ranges. You can go for something classic like convection bake or buy a model that offers more impressive features like voice control.
Keep your budget top of mind, though, and try to gauge value with respect to what appeals to you.
Control Placement
Depending on your kitchen layout and style, a freestanding or slide-in range may be more suitable.
The main difference between freestanding and slide-in ranges is whether or not the appliance features a backguard and the location of the controls.
Slide-In
The controls are located at the front of the range (also known as a Front Control Range). The backsplash won't be covered by a backguard with controls. Furthermore, the unit integrates with countertops, providing a seamless built-in look. This sleek look has made them an ideal choice for installation in kitchen islands or against a wall that features a continuous backsplash.
Slide-in ranges can come with unfinished or finished sides. All Whirlpool® slide-in ranges have finished sides, so they can be installed virtually anywhere in your kitchen.
With the Fit System Limited Guarantee, Whirlpool guarantees that your 30" slide-in range will fit seamlessly into your existing cabinet cutouts of 30" (76 cm) W x 24" (61 cm) D x 36" (91.5 cm) H. If you are unsatisfied with the fit of your range, we will provide up to $300 towards professionally altering the depth of your countertop cut-out.
Freestanding
The controls are located on the attached backguard of the range (also known as rear control ranges). The backguard on freestanding ranges also help protect the wall behind the range from spills and splashes. They have finished side panels and thus can be installed anywhere in your kitchen. Typically, this range style offers a lower entry price-point.
Each configuration offers a variety of designs with the goal of matching more easily with other kitchen appliances even if they are different brands.
Size
Select a range size that makes sense for your kitchen and meets the needs of your household.
Smaller Ranges
Smaller ranges, 20" to 24" wide (51cm to 61cm wide), work well in apartments or condos. Generally, they work just like bigger ranges. The only difference is that they have the capacity to cook less at one time.
Whirlpool offers a 24" wide freestanding electric range that helps you serve up big meals even in small spaces.
Larger Ranges
Sizes can range from 30" up to 60" (76cm to 152cm) wide. The typical range is 30" (76cm) wide with 4-5 burners and can be powered by either gas or electric. The next size up is 36" (91cm) wide. Remember to ensure that the size and functionality of your kitchen can accommodate this appliance size.
Whirlpool does not offer ranges in 36" (91cm) wide.
Professional-Style Ranges
Also known as commercial-style ranges, consider a professional-style range if you want greater power and intriguing features.
Whirlpool does not offer Professional Style Ranges
Power
Typically, professional-style ranges can run up to 15,000-20,000 BTUs per burner (British Thermal Unit) vs. an average of 5,000-7,000 BTUs in a non-professional style range.The powerful gas burners allow for quick speed and precise cooking so you can fry, sauté, boil and more like a professional cook. Furthermore, the oven can reach the desired temperature quicker. Some professional style ranges have dual fuel options, allowing for a professional cook/bake. It achieves this by marrying the accuracy of a gas cooktop with the consistency of an electric oven.
Design
The design is modern and professional. They can be up to 60" (152cm) wide.Professional-style ranges also come in smaller sizes, allowing smaller kitchens to enjoy a powerful range. Typically, there are different burner options like a griddle, grill (or both), sealed, open, or an induction top.
Ensure your kitchen is equipped to handle a large appliance in addition to having a proper ventilation system.    
Review and follow your appliance use and care instructions. This is your primary source of information.
Features
Now is the time to consider if you want conventional features or ones that provide more convenience and functionality.
Cleaning
Manual or Standard Clean
Manual or standard clean ovens generally require physical cleaning by hand. Use of cleaning agents may be necessary to remove stains.
Self Clean
The oven cleaning process involves the oven cavity heating to high-heat temperature, typically up to approximately 800 °F (400°C), when the door is locked to incinerate any spills or food. After it runs, it is necessary to wipe out any remaining food particles.The process can typically take between 2 to 6 hours.
Steam Clean
Another cleaning process that takes less time. It adds water to low heat to create steam to help release residue in the oven cavity. Any leftover residue and water must be cleaned manually and may require chemical cleaners.
Select Whirlpool® ranges offer AquaLift® Technology - the oven cleans in under an hour, odour free. Just add water, run the cycle, and wipe with a wet sponge when the cycle is finished. Learn more about the Aqualift® self-cleaning technology cleaning performance guarantee here.
Always check and follow your appliance and product use and care instructions before beginning any task, as it should be your primary source of information.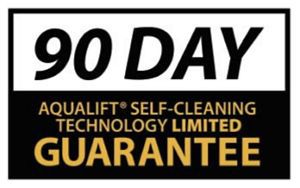 Convection Bake
This feature allows for faster and more thorough bake than conventional bake ovens (available in gas and electric ranges).The oven is equipped with a fan that circulates air and distributes the heat evenly resulting in faster and extremely precise baking. For instance, your cake will avoid getting crispy around the edges, and you will not have to rotate cookies to achieve an even bake. Convection also heats up quickly meaning less preheat time.
There are 2 types of Convection
Fan Convection - Typically has one fan at the back of the oven that circulates the air, thus distributing the heat evenly throughout the oven.
True Convection - Has a fan, but also a third heating element that helps circulate even temperatures for more consistent roasting and baking than traditional thermal cooking.
Select Whirlpool ranges offer Even-Heat™ True Convection. The bow-tie design and convection fan, help enable you to produce flawless cooking results.
Warming/Baking Drawer
Some ranges have a warming drawer, sometimes also called a baking drawer. This separate compartment provides additional space to keep dishes at a low steady temperature so that it stays warm until the rest of the meal is ready to be served. Some warming drawers also feature a slow cook function and can even be used to help bread dough rise.
Whirlpool does not offer a warming/baking drawer on its ranges
Smart Ranges
Some ranges have Wi-Fi connectivity and allow you to remotely control the appliance using an app - such as preheating or adjusting cooking modes and temperatures. Whirlpool smart ranges with Wi-Fi connectivity offer multi-step cooking, where you can send multiple cooking instructions to the oven all at once. They are also compatible with a Google Assistant device to send voice commands directly to your range.
Double Oven Range
Combines upper and lower oven capacities to provide room to cook multiple dishes at the same time at different temperatures.
Finishes
Have fun choosing the finishes you want for your range.
Colour Schemes
You can still choose the same popular finishes that many have enjoyed over the years, or go with an accent colour to make your kitchen pop.Bright colours like light blue, yellow and red can inject more vibrancy and sophistication into your beloved space. If you want your kitchen to match, with more classical colours, like white, black, stainless steel, black stainless steel are available - these finishes are all available in the Whirlpool range line-up.
We hope you are now more prepared to choose a range that will exceed your expectations and your kitchen needs. While design is always important, remember to review all the new features to find exactly what you need.
Ready to start looking for a new range? Our Appliance Finder tool can help narrow your search so you can find the one that meets your needs. Click here to find a range that's right for you.
Learn more about Whirlpool Ranges, Ovens and Stoves
Appliance IQ
Want more answers to your kitchen and laundry questions?
Was this article helpful? Pass it on