Shop Dryers: Top Load & Front Load
Care for your clothes and your family
From ideal dry times to wrinkle-fighting
performance, discover what Whirlpool® dryers offer.
Learn More
Advanced clothes dryer features
From ideal dry times to options for wrinkle prevention, discover what Whirlpool® dryers offer
The right care
for every load
Get the right type of fabric care using Intuitive Touch Controls that guide you to the ideal cycle combinations for each load.
Help keep wrinkles from settling in
Get improved wrinkle-fighting performance when you tumble and steam for up to 150 minutes with the Wrinkle Shield™ Plus option with Steam.
Help prevent
overdrying
Cycles end at just the right time with Advanced Moisture Sensing that uses three sensors to track moisture and temperature and adapt drying times.
Whirlpool® dryers delivers optimal
heat for ideal fabric care
7.4 cu. ft. Smart Top Load Gas Dryer with Intuitive Controls
WGD7120HC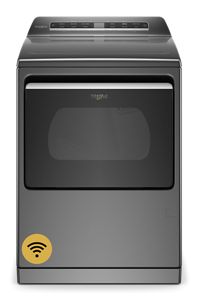 Chrome Shadow
Help prevent overdrying with moisture sensors in this top load gas dryer.
Shop This Dryer
7.4 Cu. Ft. Gas Wrinkle Shield Dryer with Steam Cycle
WGD6605MC
Keep clothes fresh while you're away with the Wrinkle Shield™ Plus option with Steam.
Shop This Dryer
7.4 cu. ft. Smart Front Load Gas Dryer
WGD9620HC
Start laundry and track progress from anywhere with the Whirlpool® app.3
Shop This Dryer
Whirlpool® standard and Energy Star® Certified clothes dryers deliver a thorough dry every time
When you're doing laundry, you need a dryer that cares for your family's clothes so they look great and last long. That's why Whirlpool created dryers that offer the specialized cycles and features you need to properly dry shirts, pants and other essentials. Our options include a steam cycle to help prevent wrinkles, ventless dryers for flexible installation, moisture settings for optimal drying and powerful cycles to dry clothes quickly. We also offer remote laundry management on select models so you can check or start cycles on the clothes dryer when you're away from home.3
Find the right dryer for your home today. Learn more about our dryers and find the best option to care for your clothes and your family. If you're looking to purchase a new laundry set, be sure to take a look at our washing machine collection as well.
240V electrical connection required.
Appliance must be set to remote enable. WiFi & App Required. Features subject to change. Details and privacy info at whirlpool.ca/connect.
Item added to the compare list, you can find it at the end of this page