Single-Door vs. Double-Door Refrigerators
The two primary classifications for refrigerators are usually design and configuration. This may include the number of doors, like double-door models, or the location of the freezer, like top freezer models. Unfortunately, it can get a bit confusing when you're shopping for a new fridge. When most people think about single or double-door fridges, they are probably thinking about two elements: the fridge compartment where fresh food is kept and how the doors are split. Many consider top freezer units to be single-door as the doors of the freezer and refrigerator compartments are situated between the top and bottom. On the other hand, side-by-side models are considered by some to belong to double-door configurations solely because the doors are situated next to each other.

This article will explore what consumers often refer to as single-door refrigerators vs. double-door refrigerators, outlining the pros and cons of each so you can make the right decision for your life and kitchen.
Single vs. Double-Door Refrigerators
Most often, single-door fridges are the less costly option. One caveat is that they may come with a standard set of features, and while not always the case, they often have less interior space. The good news is that they still offer plenty of room for wide items like trays and platters compared to side-by-side models.
Single-door refrigerators come in these styles:
All-Refrigerators feature a single-door refrigerator with no freezer compartment. While unique, this tends to be a good option for those who buy mostly fresh food. And, of course, you can always add an all-freezer or upright freezer designed for frozen foods. With respect to installation, you can place them next to each other to achieve the look of a side-by-side fridge.
Bottom freezer means that the freezer compartment is at the bottom underneath the refrigerator compartment. Based on the model and brand, bottom freezers may provide flexibility as the freezer door can be either a swing door or a sliding pull-out drawer. They are designed with accessibility in mind as they keep fresh food at eye level and within reach.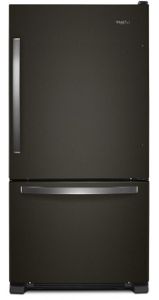 Top freezer is where the freezer compartment is over the refrigerator compartment. This keeps frozen foods at eye level. Both the freezer and refrigerator doors are swing doors, so they can be installed to open to the left or right.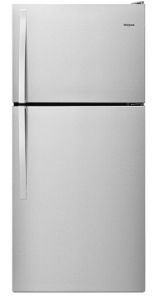 Double-door refrigerators come in these styles:
French door refrigerators have a freezer below the refrigerator. The refrigerator has two doors that open independently of each other. Many consumers opt for this configuration due to its pantry-like layout and specialized storage compartments, which make contents accessible and visible. Often, these units have external ice and water dispensers. Sometimes, they are even equipped with an additional ice maker in the freezer.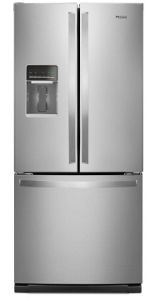 Side-by-side refrigerators have a full-height freezer compartment right next to a full-height refrigerator compartment. This means you can keep your most-used freezer and fridge items at eye level. These models usually offer additional freezer space than other options on the market and are considered to be a strong choice if you buy a lot of frozen ingredients.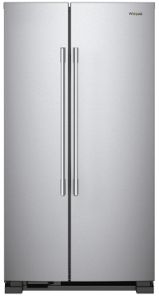 Many side-by-side refrigerators come with in-door or external ice and water dispensers. A key benefit of the side-by-side configuration is that they provide ample organization in the freezer compartment. This is because items are usually less likely to get buried as is the case with most bottom freezers.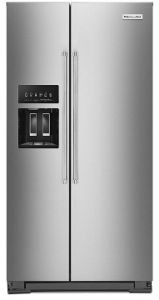 Double-door or configurations like French door or side-by-side, are typically the units available in counter-depth style. This style may offer a more premium look and integrated design.
Pros and Cons of Single vs. Double-Door Refrigerators
If you're lucky enough that your kitchen can fit either a single or a double-door refrigerator, then you should shift your focus to your cooking, household and refrigeration needs.
The pros and cons of each configuration:
Pros of single-door refrigerators:
Price - If you're on a tight budget, these models are considered to be less costly. Granted, it may not offer the most contemporary look, but it will store your food and keep it as cool as needed.
Cleaning - Because they have fewer handles, or no handles at all (pocket handles), there are fewer places for dirt and grime to live.
Fit in Tight Spaces - Smaller kitchens or for people who want to add a second fridge to their home, single-door refrigerators come in a variety of smaller sizes.
Cons of single-door refrigerators:
Wide Door Swing - On certain units, the fridge door swings open wide. It's important to note that the bigger the door, the more space it needs to open. If you're living in an apartment or condo or have a small kitchen, then this might be a good option to consider.
Space - Be prepared for a bit less interior space. These units may still provide loads of room for wide items compared to several side-by-side units. The market does offer certain bigger and wider options.
Here are the common approximate capacity ranges for:
30" Top Freezer: 11 cu. ft. - 21 cu. ft.
30" Bottom Freezer: 11 cu. ft. - 22 cu. ft.
Pros of double-door refrigerators include:
Space - Owners of double-door models can enjoy exceptional organization as they are quite big. A double-door refrigerator has multiple drawers and tiers, allowing you to organize your meal prep. In this category, side-by-side refrigerators often feature more freezer space than other configuration options. In addition, many of the larger refrigerator models come with double-doors and offer more storage capacity.
Layout - With double-doors, French door fridges are equipped with the freezer on the bottom, typically as a pull-out drawer. This way your fruit, veggies, milk, and other everyday favourites are right there waiting for you when you open the doors. Side-by-side refrigerators have narrower compartments but their layout provides excellent organization courtesy of all the different sections. You can also keep all the important freezer and fridge items at eye level.
Kitchen Space - Achieve a premium look and additional room in your kitchen when the doors are open. Since it's designed to have two doors swinging in opposite directions, double-door configurations need less clearance. Remember to always measure your space to confirm that you have the right amount of clearance. This category offers both counter-depth and built-in options. Built-ins are more shallow, leaving more space in front of your refrigerator and your kitchen.
Features - Compared to single-door, double-door refrigerators (especially French doors) commonly offer several impressive higher-end features and innovations.
Whirlpool features refrigerators with:
Infinity slide shelf: Ample room offered with a shelf that slides back to accommodate tall items.
Tiered freezer storage: Reach frozen food faster with strong organization options for frozen favourites.
Panoramic LED lighting: Under-shelf lighting helps you find what you need.
Cons of double-door refrigerators include:
Cost - They are often more expensive as you will pay a premium for the look, size and higher-end features as opposed to a single-door fridge.
Narrow Door Storage on Side-by-Side Models - This unit style has a distinct drawback. The door bins tend to be a bit narrower due to the size of the door. This means that on certain fridges if you want to keep pitchers of beverages, large water bottles and a handful of condiments on your refrigerator door, you might have to get creative with how you arrange these items.
Which Configuration Do You Prefer?
Determine your preferred configuration by reviewing these single and double-door refrigerators: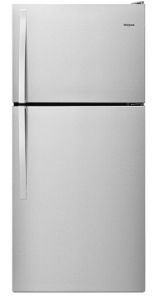 Single-Door - Top Freezer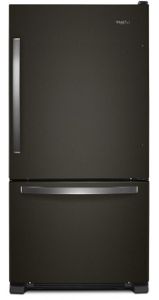 Single-Door - Bottom Freezer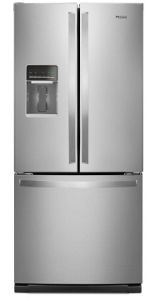 Double-Door - French Door (3 door or even 4 or 5 door for certain brands)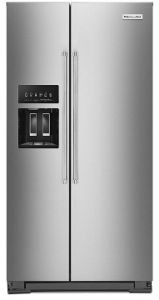 Double-Door - Side-by-Side
Hopefully, the difference between single-door and double-door refrigerators, including their respective benefits and drawbacks, is clearer now and you are better prepared to find your ideal refrigerator.
Learn more about Whirlpool® single-door and double-door refrigerators.
Appliance IQ
Want more answers to your kitchen and laundry questions?
Was this article helpful? Pass it on