Appliance IQ: Laundry
5 Steps to Remove Sweat Stains From Shirts
Occasionally, your hard work shows up on your t-shirt. Don't throw out clothes when sweat stains appear; instead, get the stains out by taking a few steps before placing your clothes in the washing machine. The five steps below can ensure that sweat stains don't ruin your shirts. To prevent sweat stains from spreading or setting in further, act quickly as soon as you notice them. Always check the care label of your clothing for any special instructions, such as dry cleaning, before starting to treat the stain. Learn how to read laundry symbols or care labels in our quick guide. 
Ingredients you will need
Using Natural Cleaners to Get Rid of Armpit Stains
Ingredients Required:
2 cups of water 
1 cup of white vinegar
½ cup of baking soda
1 tablespoon of salt
1 tablespoon of hydrogen peroxide
5 Steps to Remove Sweat Stains from Shirts
Step 1: Prepare a Soaking Solution
Start by mixing 2 cups of water with 1 cup of white vinegar. Let the sweat-stained shirt soak in this solution for 30 minutes.
Step 2: Wring Out Remaining Water
Put your shirt on a flat surface after it has been soaked for 30 minutes. Wring out the excess water and lay it on a flat surface.
Step 3: Create a Stain Removal Paste
Here is the secret formula that will help you remove sweat stains. In a bowl, prepare a paste using ½ cup of baking soda, 1 tablespoon of salt and 1 tablespoon of hydrogen peroxide and stir well. 
Do Not Use Chlorine Bleach
Chlorine bleach may seem like an easy way to remove sweat stains, but it can actually make them appear darker by making them darker. If you must use bleach, use oxygenated bleach, which has a chemical structure that makes it easier to remove protein stains.
Step 4: Scrub the Stain With a Toothbrush
Allow your sweat stains to soak in the paste for 20 minutes. The paste can either be applied using an old toothbrush or scooped with a spoon and rubbed in with your fingers.
Step 5: Machine Wash With Hot Water
The next step is to wash your shirt in the washing machine on the hottest water setting recommended on the care tag after 20 minutes. Dry the item on the line: Heat from a dryer will set any marks left behind while the fabric is wet. Repeat the steps as many times as necessary if the stain is still visible after it dries.
That's all there is to it! Your shirt is saved in just 5 simple steps. No sweat.
Need other Stain Removal Guides?
As an expert laundry brand, we host a handful of stain removal guides that can help you get the toughest stains out of your laundry. Check them out below:
Get Help with Other Tough Stains
Several Whirlpool® washing machines come equipped with features to simplify the steps above, including: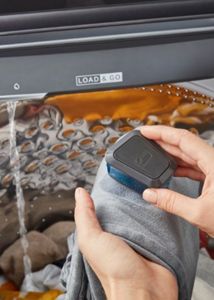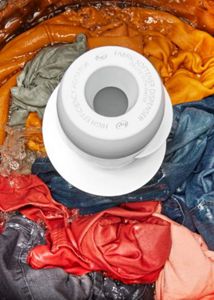 Consider Switching to Aluminum-free Deodorant
These unsightly sweat stains aren't caused just by sweat. As you sweat, the aluminum in your antiperspirant, combined with your sweat and proteins on your skin, cause the stain. Consider switching to an aluminum-free antiperspirant or deodorant instead. The easiest way to remove sweat stains is to prevent them from happening.
Was this article helpful? Pass it on