Appliance IQ: Kitchen
Side-by-Side vs French door Refrigerators
Families often use the kitchen as a crossroads, and the refrigerator is a favourite pit stop. Deciding which refrigerator is right for you and your family may feel overwhelming. That is why we've created this helpful guide. 
You will learn some of the most important things to consider as you compare both Side-by-Side vs. French Door refrigerators. Find the right fit for your home by understanding the configurations, features, and advantages of each.
What is a Side-by-Side Refrigerator?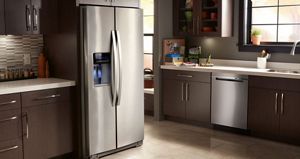 A side-by-side refrigerator has two tall, narrow compartments, one for the refrigerator and one for the freezer, which occupy the entire unit's height. An in-door dispenser for water and ice can also be incorporated into the top-to-bottom design. Take a look at our selection of Whirlpool® Side-by-Side Refrigerators and discover their benefits.
What is a French door refrigerator?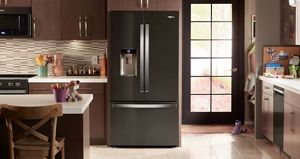 In French door refrigerators, the top compartment has double doors that open outward, are split down the middle, and can be opened separately or together for easy access to all refrigerated items. The freezer is located below the double doors in a large pull-out drawer. Check out our collection of Whirlpool® French Door Refrigerators and discover what they can do for your family.
How Are Side-by-Side and French Door Refrigerators Different?
In addition to their obvious differences in configuration, French door and side-by-side refrigerators differ in a few other ways. There are differences between the two configurations in terms of capacity distribution, starting prices, and standard features.
1. Configuration
Unlike side-by-side refrigerators, which typically feature a contoured, two-door design, French door configurations can vary and might occasionally include an exterior drawer or 4-door configuration like this 4-door model from Whirlpool. Typically, both configurations come with adjustable bins and shelving for easy storage, but French door models tend to incorporate a greater range of customization options due to their greater width.
Would you like some help narrowing down which kitchen configuration is best for your needs? The How to Buy Refrigerator Guide by Whirlpool can help you find the right refrigerator for your family.
2. Dimensions/Sizing
There are standard measurements for all refrigerator types and capacities, but specifications vary based on the type and capacity. In general, French door refrigerators tend to have larger dimensions than side-by-side refrigerators. There are both freestanding and built-in models available in both standard and counter depths.
To determine the ideal dimensions for your kitchen, take a look at our refrigerator measurement guide, which will walk you through finding the perfect fit.
3. Capacity
Side-by-side refrigerators often offer a similar capacity range to French door refrigerators due to their spacious capacity and open layout. Most often, French door refrigerator capacity ranges from 20 cu. ft. to 28 cu. ft., with the majority of their capacity allocated to the refrigeration compartment. A side-by-side can also range from 20 cu ft. to 28 cu. ft., but capacity is spread more evenly between the freezer and refrigerator compartments.
There are some units with features that allow you to rearrange capacity to better suit your groceries, including Whirlpool® Refrigerators with Infinity Slide Shelves.
4. Features
In comparison to other common refrigerator configurations, French door and side-by-side models offer many practical features. There are differences between brands and models when it comes to features, but French door models usually offer the most, especially in the performance category. Some models feature built-in ice and water dispensers, adjustable shelving, crisper drawers with humidity controls, fast cooling, and other features.
Water and ice dispensers can also be found in side-by-side configurations, as well as spill-proof shelves, specialized temperature zones, and other features unique to each model.
5. Price
The price of side-by-side refrigerators and French door refrigerators varies depending on their finish, features, and capacities. French door refrigerators tend to start at a higher price point than side-by-side refrigerators. There can be a significant price difference between French door and side-by-side models due to the additional features and capacity offered by French door models.
Side-By-Side vs French Door Refrigerators: Pros and Cons?
Choosing your kitchen's configuration is ultimately a matter of preference, and the factors listed below can help you decide which features you need most.
Side-by-side refrigerator pros
Freezer Organization: This refrigerator offers increased freezer capacity by distributing it evenly between the top and bottom compartments. This allows you to store more frozen items without worrying about running out of space.
Visibility and Organization: The multi-level shelves in both the refrigerator and freezer sections provide improved visibility and organization. You can easily see all of your ingredients at a glance, making it quick and easy to find what you need.
Enhanced door storage: Use top-to-bottom door bins to store tall condiments, beverages, and small items.

Lower price point: It may be possible to enjoy similar features and capacities without paying the same price as a French door refrigerator.
Perfect for small spaces: This refrigerator has two narrow doors that open outward, making it easier to open and close in small spaces.
Side-by-side refrigerator cons
Fresh items are harder to reach: Due to the top-to-bottom compartment design, only a few shelves and door drawers are easily accessible. Review our guide on how to organize your side-by-side fridge to combat this issue.
Reduced refrigerator capacity: Dedicated freezer space reduces the capacity of the refrigerator cavity.
Narrow shelves: Large or wide platters may have difficulty fitting on narrow shelves.
French door refrigerator pros
Larger shelves and compartments: Serving trays and platters can be stored more easily with this full-width design.
Enhanced customization: A wider and larger refrigerator cavity opens up more options for customization.
Quick access to fresh ingredients: Seeing the ingredients at eye level makes it easier to find what you're looking for, and may reduce waste as you're more likely to notice forgotten items.
Improved refrigerator capacity: An increased refrigerator capacity allows you to store more fresh foods than a side-by-side arrangement.
Flexible design: French doors allow you to access items by opening only one door, keeping cold air in the refrigerator longer.
French door refrigerator cons
Less flexible freezer organization: There are fewer shelves and bins in a freezer with a pull-out drawer, which makes freezer organization more difficult.
Limited freezer space: Focusing on fresh items leaves less space for frozen foods, which may pose a problem for those who prepare and freeze meals in advance.
Increased price point: The price of French doors is often higher than that of side-by-side units, but there is a range of budgets to choose from.
Less door storage: If your refrigerator is full of condiments and beverages, taking up the main shelving may be a hassle.
Which Is Best for My Kitchen?
It's important to consider budget, size, storage, features, and the unique needs of your family before choosing the right fit for your home. In case you enjoy fresh foods and large gatherings, a French door refrigerator may be a good fit, while side-by-side refrigerators may be more appealing if you prefer more storage and access to frozen goods.
Find out how to buy the best refrigerator for your home with this helpful buying guide.
Shop for side-by-side and French door Whirlpool® Refrigerators
Learn more about refrigerators
Was this article helpful? Pass it on